Illusion Del Pastor - Amigo is the mighty gelding that started it all. Amigo has the legendary bloodlines of El Pastor, award winning conformation, a huge heart, intelligence and award winning experience in; performance, barrels, gaming, trail, trick, endurance, and much more.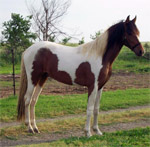 Cuatro Beat Tic Tac – Diego is our newest stallion who is line breed El Pastor. He is a very gentle, intelligent stallion with a beautiful conformation and a stunning presence. He is expected to be debuting in the 2015 show season when he will be first available for breeding.
La Princesa Del Pastor – Indy is a stunning young mare with El Pastor and Vitral lines to create an impressive show or breed mare. She is currently in training under saddle for trail and the show ring. She is extremely loving and affectionate and has a textbook even, rhythmic, lateral gait with enough brio to perform in Fino and a very loving affectionate personality. For Sale!
Princess A La Orden – Cowgirl is a primarily trail, gaming and breeding mare with a very natural gait.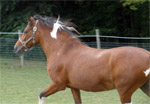 Olazable AHG – Cowboy is a been there done that gelding who just lights up when under saddle.
Slew – Slew is a 10 year old finished barrel horse. He is a grade gelding with a lot of speed and a great turn. His bloodlines include Seattle Slew (thoroughbred) and Smart Chic Olena (Quarter Horse). He is a free runner, hunts the barrels, and will always give you an honest run because he loves the run. Will not kick, bite, or buck. He has been mostly competing in 1D and 2D barrels in the Kentucky/Tennessee area. He runs off a snaffle and no tie down, and handles with a very light rein. He also sails through the poles because he handles like a dream. He has been to big shows, rodeos, small events, track, trail, and ranch ridden. He is a big, thick, strong, confident boy.
High Echelon Too - Flash is our Arabian stallion with beautiful square confirmation, strong endurance, and a stunning presence. He has had dozens of green riders started on him including young riders, and is a complete gentleman under saddle. Flash has always been a mighty little stallion who can do it all with a heart the size of Texas. He is that once in a lifetime stallion that everyone is honored to meet.
High Echelon III – Thunder - Thunder is a pure Arabian with great endurance bloodlines. We have had had him all his life and he has been used for trail, lessons, show, and gaming. Thunder has a very friendly personality, neck reins beautifully, goes anywhere, will not kick or buck. Will only go to forever home that is familiar with Arabians. He is 15 years old and 14hh tall. He is only being sold because his owner outgrew him and will no longer be able to ride him. For Sale!
Lil Dosey Lena – Cody is our young cow bred Quarter Horse that is rapidly sponging up every discipline he is taught. He is a great example of how versatile a smart, willing, well built horse can be. We are very excited to see great things from him since he has excelled in everything he has been taught so far.
Surenough Duzzit – Dixie is a darling thick built Skipper W mare with a huge heart and solid enough for an amateur rider. She has been ridden for gaming, trick riding, trail, and lessons. She is built like a tank, and makes you feel comfortable under saddle. For Sale!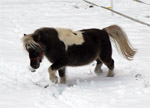 Prince Charming – PC is our amusing little miniature stallion with champion jumping bloodlines. He is a huge horse in a very tiny body
Silver – Silver is our very old pony who used to enjoy driving cart and trail with young riders.
Cheyanne - MB is our newest pony who is a very stocky, kind, intelligent little mare. She is now starting training and we are sure she will be very talented at whatever she ends up in.
SRK Magnolia Jazz – Wyatt is the newest addition to the farm, and very accomplished large, young gelding. He has been used to gather yearling stock, doctor sicks, drag calves to the fire, sort and anything else involving cattle. He is really solid in the heading box. Scores well, plenty of speed to the cow and rates well, not afraid to take one in tow. Has enough speed to be a barrel racer.